About Me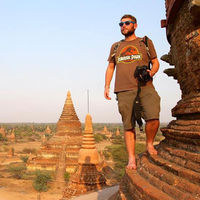 Born and raised in Brighton on the south coast of England, I studied Computer Science & Artificial Intelligence at the University of Sussex from 2001 to 2004, achieving a First Class Bachelor of Science (Honours) degree. My dissertation was on the Mathematics of Origami.
I started working for Gamer Network (originally Eurogamer Network) in 2005 after six months travelling. During my nine and a half years at the company in my role as a Senior Developer and later as a project manager (as well as many other roles including in the events department), I helped launch multiple websites and saw the business grow from a small start-up to a very successful international network.
In 2014 I took the life-changing decision to leave my job, friends and family to travel the world. The first year was mostly spent in Southeast Asia but I plan to experience as many places as I can, working along the way. Alongside my love of travel are my passions for food, wine and ales of the world. I have spent a lot of time researching and exploring local food as I travel (and then sharing the knowledge in my food and travel guides). I also have studied wine including the WSET Level 2 Award in Wines and Spirits. For more information please see my LinkedIn profile.
A brief history...
App Development
Since 2018 my main focus has been building apps for Android and iOS. The primary project has been the Skincare Routine app. Other apps are in development.
Web Development
The majority of my work over the years has been in web development, working with many languages including PHP, MySQL, Python, Javascript, & ASP.
During my time at Gamer Network I worked on countless sites including: all of the European editions of Eurogamer; Eurogamer TV (which I built and maintained the Flash video player and video encoding system); GamesIndustry.biz (including the vast jobs board section); a children's magazine website called Megaton; the events websites, ticketing & registration systems for EGX, Rezzed and GamesHorizon.
I was also in charge of many internal systems such as the sales management software, advertising campaigns, events registration and content algorithms.
Some of the websites I've worked on...
Web Design & UX
Some of my projects are smaller websites designed and built entirely by me from scratch. I have expertise in interactive responsive web design using Javascript, jQuery, ReactJS, JSX, Redux, Node.js, CSS, LESS, HTML, WordPress, SquareSpace, HubSpot and multiple templating engines. If you're looking for a small stand-alone website, I can help you through the whole process including the website hosting, design, development, content management and even photography.
"I loved working with Chris. Creative, responsive, flexible and so easy to work with. I wouldn't hesitate to recommend him and would love to work with him again."
"Chris was an efficient and passionate web designer despite the fact that he travels full-time. He would answer all of my questions in a timely manner and my website is beautiful and functional. Thank you Chris, I would highly recommend you to any business or sole trader, large or small."
"I needed a professional and corporate website to reflect the services we provide. From the outset Chris demonstrated his skill not only with the design of the site but the technical aspects including email servers, web hosting, etc. Chris would get back to me within 24 hours of any question and produced a website beyond my expectations. His support after the launch was second to none and he was always there to answer any questions I had. I would highly recommend Chris and will absolutely use him for anything else in the future."
Examples of website I've built...
Project Management
I have been in charge of many website projects over the years, the biggest was for Prima Games in California. I was in charge of a small team and acted as the liaison between Gamer Network and Prima Games. We were hired to produce interactive guidebooks for video games and help to redesign their website and logo. Ultimately there was a takeover and sadly some of our best work has since been undone.
"When my company decided to make a splash with a sophisticated digital web presence and all-new web product, we were lucky enough to contract with Chris (through his former employer) to build our site and web-access product. Not only was he a true pleasure to work with, they don't come much nicer or easy-going than he, but he was also precise, creative, and supremely talented. He took our ideas for our digital product and turned them into something wholly new and amazing. His ability to see beyond our limited view and deliver amazing design (on time, mind you) launched our site well beyond our initial projections for the first year. Truthfully, I'm still benefiting from the success of that partnership. Thank you, Chris!"
Photography
Examples of my travel photography...
Examples of my events photography...
Writing
Examples of my writing...
Contact
Please contact me about any future or existing work.